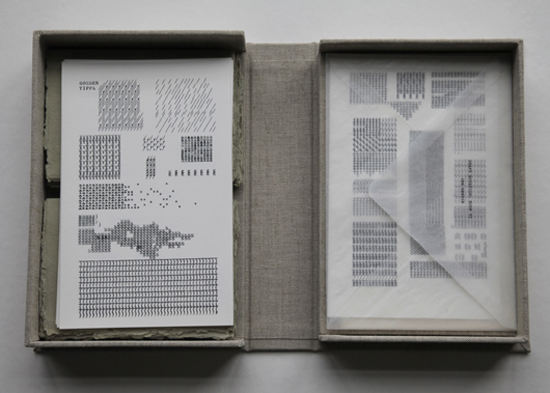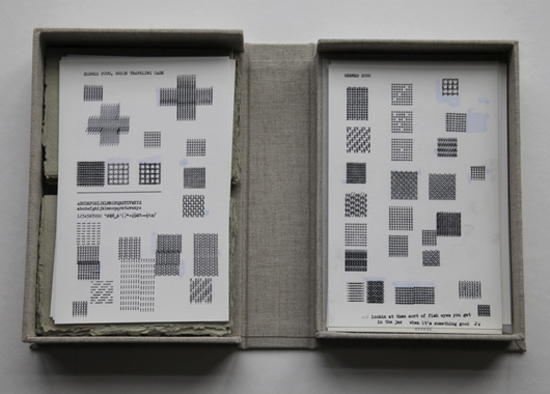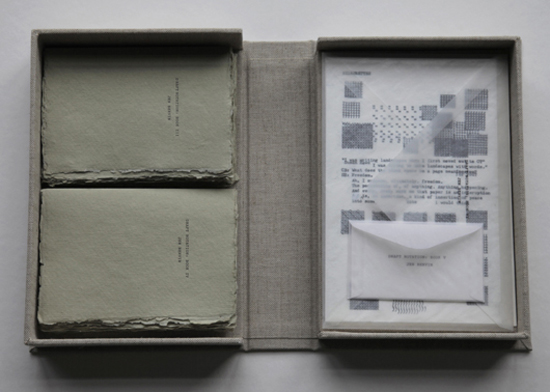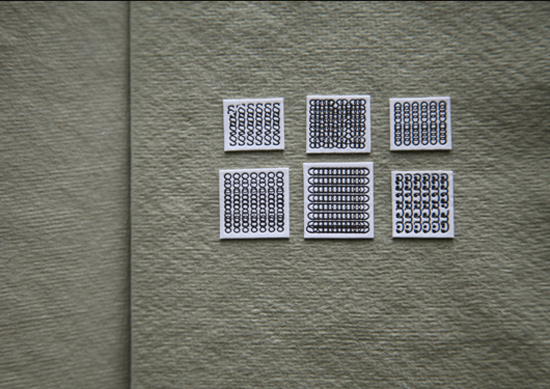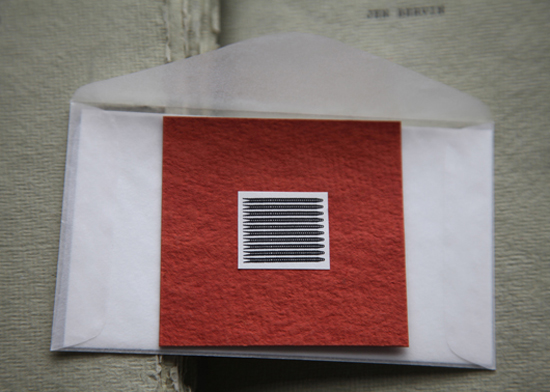 ANNOUNCING A NEW ARTIST BOOK BY JEN BERVIN: DRAFT NOTATION
At first glance Jen Bervin's fourth project with Granary Books appears to be a collection of typewritten pattern poems. Though both conceptual artists and concrete poets have used the typewriter in this way, Draft Notation was inspired by the work of twentieth-century modernist, textile designer, weaver, writer, and printmaker, Anni Albers. Albers used the typewriter as a way to create new patterns for woven design; the studies were published in her book On Weaving, where she writes: "These varied experiments in articulation are to be understood not as an end in themselves but merely as a help to us in gaining new terms in the vocabulary of tactile language."
The title, Draft Notation, refers to the pre-weaving design diagrams a weaver creates or consults -- a kind of written score for a woven textile. The art of weaving dates back to 7000 BC and is one of the earliest grid forms. Bervin learned how to weave in order to find "new terms in the vocabulary of tactile language" on a typewriter. She made the typed studies in this edition following intensive time spent weaving advanced cloth structures on the loom and researching in the archives of The Josef and Anni Albers Foundation and the Ratti Textile Archive at the Metropolitan Museum of Art.
Each copy comprises: 1) four pale green books with a total of fifty-seven typed studies reproduced in letterpress; 2) a numbered, unique typing on red board; 3) facsimiles of nine studies made on different typewriters; 4) a typed process note; and 5) a colophon all contained in a clamshell box. Seventy-five copies signed and numbered by the artist.
Published by Granary Books, 2014
10" x 7" x 2-1/4" | 109 pp
$2500.00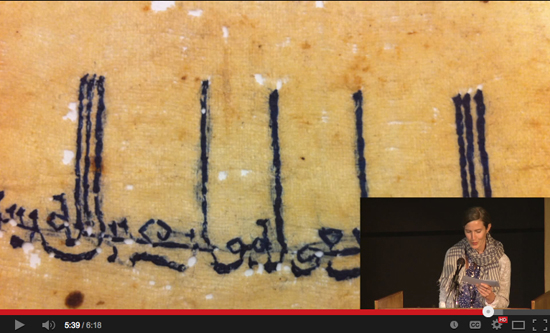 Watch Jen Bervin's presentation on her project The Silk Poems.
NEW WORK IN PROGRESS: THE SILK POEMS BY JEN BERVIN
Jen Bervin received a 2013 Creative Capital Grant in Literature for her project The Silk Poems, an experimental book that takes this textile as its subject and form, exploring the cultural, scientific, and linguistic complexities of silk, mending and the body in poems imprinted on silk film. Silk, as a material, is compatible with body tissues; our immune system accepts it on surfaces as sensitive as the human brain. Drawing on contemporary biomedical engineering research using patterned silk as bioactive sensors under human skin, the artist will fabricate the book by nanoimprinting silk films. The resulting pages will be combined into a transparent "book" resembling a piece of microfiche film—a single small sheet, with every poem present, that can be read, projected, with fiber-optic light.
This fall, Bervin is one of the 27 artists and scholars from 14 countries at The Bogliasco Foundation who will experience residencies at the Bogliasco Study Center in Italy this fall. Bervin was awarded a fellowship for her project, The Silk Poems; currently in the research phase, this project includes consulting nanotechnology and biomedical labs, and over fifty international textile archives, medical libraries, and sericulture sites in North and South America, Europe, the Middle East, and Asia. Her current trip involves research in Como, and Lucca, Italy; Istanbul, Turkey; and Tbilisi, Georgia.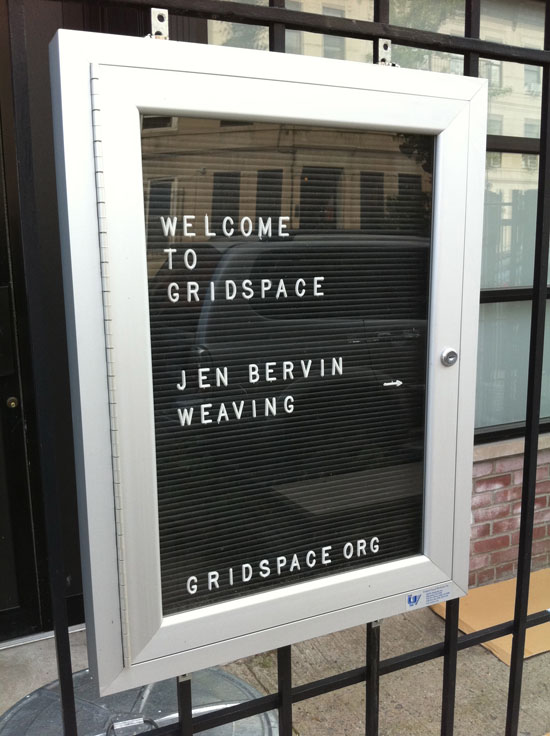 SITE SPECIFIC WEAVING BY JEN BERVIN AT GRIDSPACE
Over the course of a month, I made a 5 foot by 5 foot, white on white weaving directly onto GRIDSPACE'S iron fence in Crown Heights, Brooklyn. The fence was treated like a very simple loom, one dating back to 6000 BC. The warp, or vertical threads, circled the public and private side of the fence, as did the interwoven horizontal weft threads.
While working, I wore a uniform of white coveralls with the word "WEAVER" embroidered in red to spark conversation with passerbys. The weave structure of the coveralls fabric was the basis for the weave structure on the fence, a 4/1 warp-faced twill made from undyed cotton cord.
It sounds clear now, but when I started, I was just trying to take the next step, to learn from the materials, weather, and people who came by. The piece was always up, outside, in public, visible 24 hours a day, in all weather, from September until October. I worked on the cusp of public and private space, social space and art gallery space at GRIDSPACE, an architecturally and sculpturally specific curatorial outlet, engages the rapidly changing neighborhood of northern Crown Heights, Brooklyn. The non-traditional storefront gallery is located at 112 Rogers Avenue, at Sterling.
The interaction with passersby was positive; neighbors—mostly originally from the West Indies—and people who work in the area gave compliments, kept tabs on the progress, asked questions, and offered advice. When I was doing ok, I got "good job" a lot. When I was really messing up, "good luck." My friends visited, my dog sat nervously, it rained a lot.
Once, when I had an impressive tangle of weft, and was trying to sort out how to fix a mistake I'd made 20 feet previous, an older gentleman stopped and asked if I needed help. I said I was trying to solve a problem – and he paused, reflecting, "all by yourself?" Then added, "Find a way to keep going." Another favorite was the teenage boy who stopped to say he thought it was beautiful. I didn't expect that. Other people told me they checked on it regularly. One woman said it gave her an idea and rushed off. One guy yelled out the car window, "like the color."