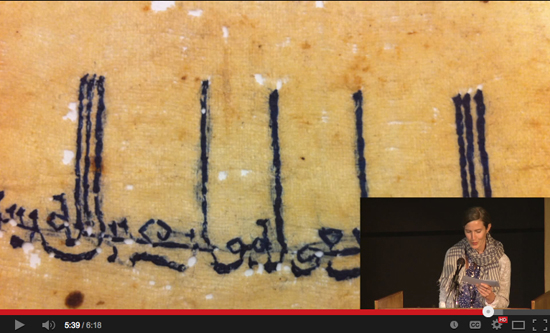 Watch Jen Bervin's presentation on her project The Silk Poems.
The video includes a clip from Fiorenzo Omenetto's TEDx talk.
Jen Bervin received a 2013 Creative Capital Grant in Literature for her project The Silk Poems, an experimental book that takes this textile as its subject and form, exploring the cultural, scientific, and linguistic complexities of silk, mending and the body in poems imprinted on silk film. Silk, as a material, is compatible with body tissues; our immune system accepts it on surfaces as sensitive as the human brain. Drawing on contemporary biomedical engineering research using patterned silk as bioactive sensors under human skin, the artist will fabricate the book by nanoimprinting silk films. The resulting pages will be combined into a transparent "book" resembling a piece of microfiche film—a single small sheet, with every poem present, that can be read, projected, with fiber-optic light.
Currently in the research phase, this project includes consulting nanotechnology and biomedical labs, and over fifty international textile archives, medical libraries, and sericulture sites in North and South America, Europe, the Middle East, and Asia.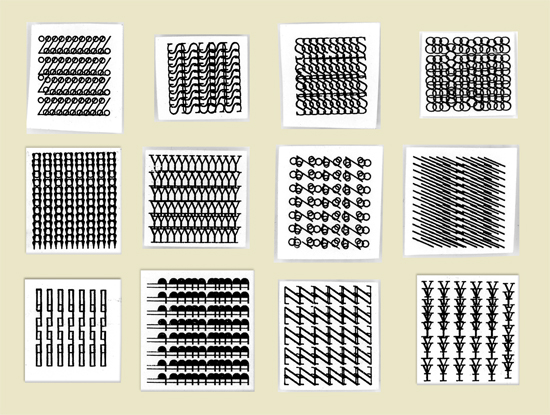 These typed studies were made on a Brother Correctronic 50 following intensive time spent weaving cloth structures on the loom. I think of them as textile scores. The scale is quite small. About the size of your thumb nail.
They were inspired by Anni Albers' typewriter studies from Black Mountain College (the impetus for my desire to study weaving). It was quickly apparent to me that her profound understanding of cloth structure gave her a unique perspective on the gridded space the typewriter offers. I thought, I know nothing about the typewriter yet.
I just got the green light on a new artist book I'm making with some great collaborators this spring:
DRAFT NOTATION by Jen Bervin
(Granary Books, forthcoming May 2014)
Essay by Brenda Danilowitz, Chief Curator, The Josef and Anni Albers Foundation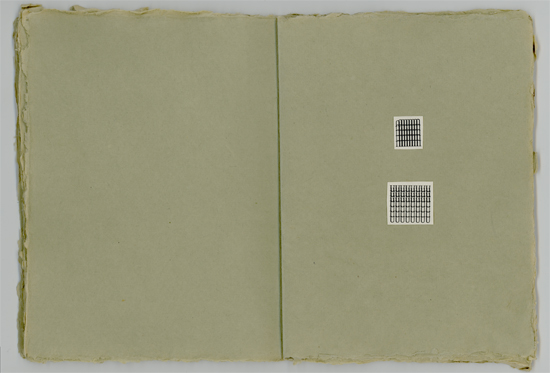 These books, along with work from GRIDSPACE (read more below), are on exhibit at The University of Utah Marriott Library in Salt Lake City from January 31 until April 13, 2014.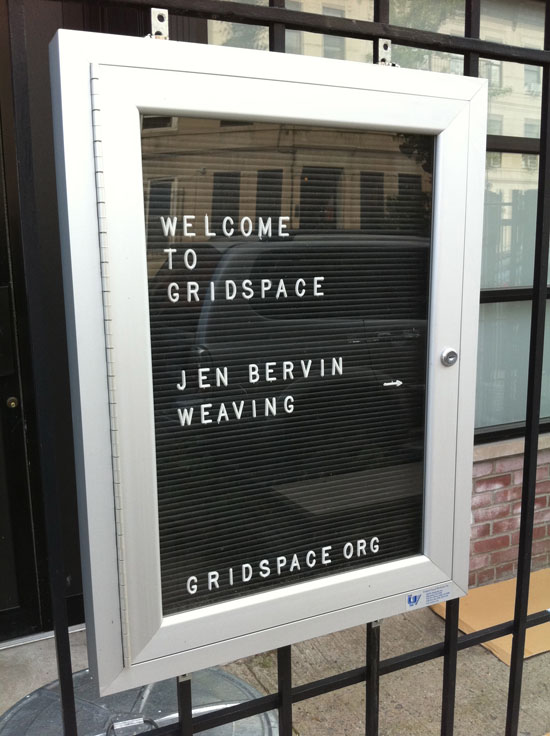 JEN BERVIN WEAVING AT GRIDSPACE

Over the course of a month, I made a 5 foot by 5 foot, white on white weaving directly onto GRIDSPACE'S iron fence in Crown Heights, Brooklyn. The fence was treated like a very simple loom, one dating back to 6000 BC. The warp, or vertical threads, circled the public and private side of the fence, as did the interwoven horizontal weft threads.
While working, I wore a uniform of white coveralls with the word "WEAVER" embroidered in red to spark conversation with passerbys. The weave structure of the coveralls fabric was the basis for the weave structure on the fence, a 4/1 warp-faced twill made from undyed cotton cord.
It sounds clear now, but when I started, I was just trying to take the next step, to learn from the materials, weather, and people who came by. The piece was always up, outside, in public. I worked on the cusp of public and private space, social space and art gallery space at GRIDSPACE, an architecturally and sculpturally specific curatorial outlet, engages the rapidly changing neighborhood of northern Crown Heights, Brooklyn. The non-traditional storefront gallery is located at 112 Rogers Avenue, at Sterling.
The interaction with passersby was positive; neighbors—mostly originally from the West Indies—and people who work in the area gave compliments, kept tabs on the progress, asked questions, and offered advice. When I was doing ok, I got "good job" a lot. When I was really messing up, "good luck." My friends visited, my dog sat nervously, it rained a lot.
Once, when I had an impressive tangle of weft, and was trying to sort out how to fix a mistake I'd made 20 feet previous, an older gentleman stopped and asked if I needed help. I said I was trying to solve a problem – and he paused, reflecting, "all by yourself?" Then added, "Find a way to keep going." Another favorite was the teenage boy who stopped to say he thought it was beautiful. I didn't expect that. Other people told me they checked on it regularly. One woman said it gave her an idea and rushed off. One guy yelled out the car window, "like the color."
The exhibition was visible 24 hours a day, in all weather, from September 1 until Oct. 12, 2011.